On this page you can only find downloads in English. For all downloads in Dutch, Please click "Nederlands" in the Language Switcher.
Colourcash – Â 2008
The book on the development of the design of Colourcash (kleureneconomie_, including an index A-Z of economic topics.
Software
Rgbtrade. Online banking systeem and marketplace. 2008-2011
If you vant to start a colourcash community, you may be interested to see this project:Â Â http://rgbtrade.org.
Rgbentium. A font to "make it real"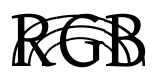 Like other currencies, colourcash also took a letter, to put in front of any numbers. To make the three letter code RGB recognisable, three arches complete the expercience. For experienced sceptics, see!
The TTF Font works on Windows, Apple and Linux. Install, select the RGBentium font and type R,G or B.
See the  Rgbentium font project page